Harambe was a 17-year-old gorilla, who was born in 1999 and died in 2016, causing all of the memes and jokes you see today. They will probably die out before the year ends. Now, don't get me wrong, I love Harambe just as much as the next guy, but really? Are all these jokes and memes necessary? Harambe was 440 pounds and is best known for his death, that was caused by a mother letting her kid fall into the gorilla cage.Harambe was given his name by a man named Dan Van Coppenolle. Harambe means "working together, caring, and sharing" in Swahili. Dan entered a contest for Harambe's name back when he lived at Gladys Porter Zoo in Brownsville, Texas. He was extremely surprised when the name Harambe was chosen. The judges thought the meaning of the name was a perfect fit.
Harambe's original home was in Gladys Porter Zoo in Brownsville, Texas. He lived with his mother and brother which were both killed in a tragic gas leak at the zoo. His mother's name was Kayla and she was 10 at the time, his brothers name was Makoko and he was just one year old. Harambe was transferred to his new home, The Cincinnati Zoo in 2014.
Harambe died on May 28, 2016. He was shot by a zookeeper who is unknown at the moment, for his identity protection. On the 28th of May, a 3-year-old boy named Isiah fell into the gorilla pin at the Cincinnati Zoo. The crowd around the gorilla cage were screaming and yelling. This wasn't the smartest thing to do, considering there was a 3-year-old in a gorilla cage. Out of confusion, Harambe dragged the kid across his pen with brutal force. The zookeeper was forced to shoot Harambe for Isiah's sake.
Isiah's parents, Michelle Greggs and Deonne Dickerson, were not charged with any crime. I know what you are probably thinking, "How were they not charged? Not only were they the reason a 17 year old gorilla, but they let their own son fall in the cage!" and well, all I can say, is that I think the government is pretty messed up.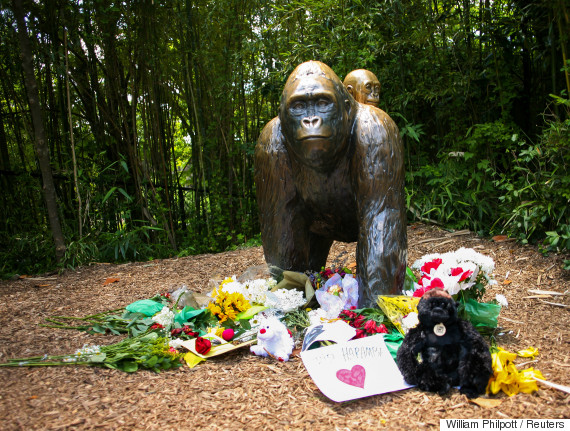 The Cincinnati Zoo has asked multiple times for people to "Stop joking our dead gorilla". They are of course sad of their gorilla's death and think he needs respect. He died because of a mother who wasn't even charged. In honor of Harambe they not only have his funeral online, but they have a memorial statue of Harambe in the zoo.
I hope you have learned something interesting, or worth your while when reading this! I hope you know understand why we are so serious about him and are sensitive to the jokes. Now you know who Harambe is! Tell your friends, spread the word of Harambe in honor of him! Thanks for reading, bye!!!
Rest In Peace, Harambe



Sources:
http://www.cnn.com/2016/05/31/opinions/harambe-death-meaning-coppenolle/
http://www.mirror.co.uk/news/world-news/shot-gorillas-harambes-mother-brother-8096035
http://www.express.co.uk/news/world/677347/harambe-gorilla-Cincinnati-zoo
https://en.wikipedia.org/wiki/Killing_of_Harambe